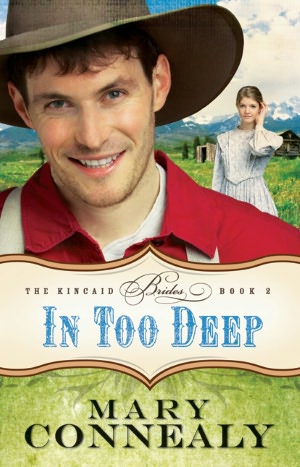 Lately I have been obsessed with the Kincaid Brides Series by Mary Connealy. A couple of days ago I reviewed Out of Control, the first book in this series set in the beautiful Rocky Mountains of Colorado. Today I will review the middle book in the series, In Too Deep.



Here is what the back cover of the book says: "In 1866 Colorado, Ethan Kincaid agrees to a marriage of convenience with the same casual disregard he gives every decision. Audra Gilliland, young mother of two, accepts his proposal because she wants to stop being a burden to her newly married stepdaughter.
And suddenly both of them are in far deeper than they'd planned.

Ethan doesn't expect Audra to affect him so profoundly, and when she begins to, he's terrified of the pain he's felt before when someone he loved was seriously injured on his watch. He's determined that his new wife will do as he says so he can keep her safe from the dangers that lurk on their ranch.

Audra has been cared for all her life by one man or another--and they've done a poor job of it. Now she's planning to stand up for herself. And her new husband had better agree or get out of her way!

What will it take to transform two wayward hearts fearful of getting in too deep into two trusting hearts ready to risk falling deeply in love?"
I really enjoyed this book. Like others by Mary Connealy, it is very funny and well-written.
Ethan has never let himself get attached to anything ever since his little brother almost died in a terrible accident in a cave when they were younger. Since then, he has always pasted a smile on his face and never really cared about anything that happened.
Audra decided that she would not be some weak little dandelion fluff and be commanded around by everyone when her last husband died. She plans to stand up for herself from now on and not let anyone control her anymore.
I loved all of the characters both in this book and in this awesome series. I would recommend anyone to read it!
So, what do you think of this? Does it look good? What are you currently reading?